Our Series Section Gets A Refresh!
Series information is one of the most important metadata for your ebooks. It has a crucial impact on both the referencing and distribution of your ebooks, and therefore its discoverability. Properly documenting your series information gives your ebook an extra chance to fall into the hands of readers.
To emphasize this, we made changes to the Series metadata section of Cantook Hub to make this part of the interface as intuitive as possible!
What Are The Changes?
An emphasis on mandatory fields
Previously, the Series section had multiple fields to fill in and it could be tricky to distinguish between mandatory and optional fields.
Consequently, we now highlight the mandatory fields in the interface:
Series title

. If the name of your series already exists when you enter it, you will be prompted to select the name from a drop-down list to avoid creating a duplicate.

Position of the publication in the series

. From now on, it will only be possible to select a number in this field, because this is the only information that should be recorded there.

The manner in which you would like the information to be displayed at sales points

. We added a feature that will automatically complete the Position caption field. For example, if you enter "2" in the publication's position, we will automatically fill the Position caption field with "Book 2". You are free to change the word book for another one if you wish (such as "Volume" or "Tome," for instance).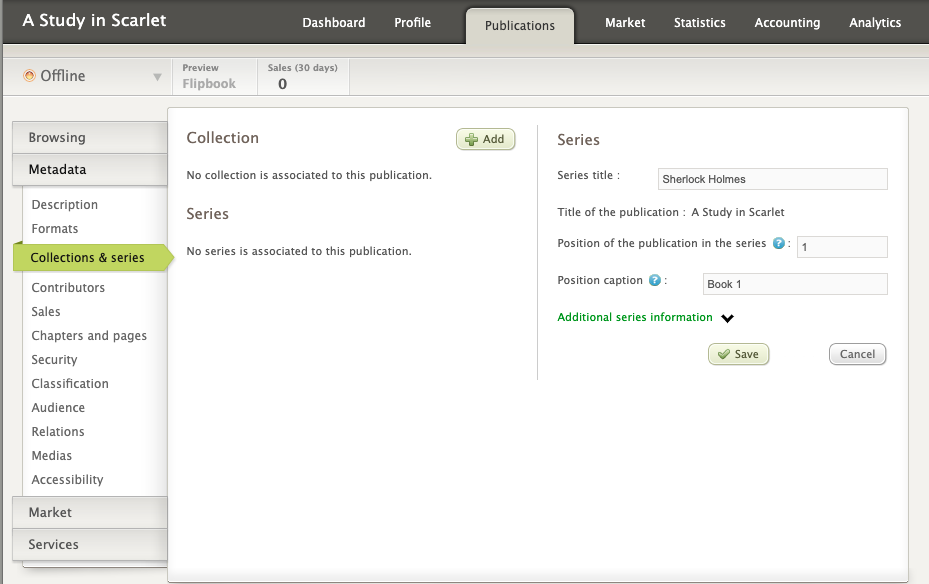 All optional fields are still available!
Of course, you can always access the optional fields if you want to document more information about your series.
Assign it a specific identifier (for example, if you publish journals and want to assign an ISSN to your series).
Add a link to your website
Add a brief description of the series
What's So Important About Series?
Here are a few examples of the role that series play in the discoverability of your books:
As a distributor of your content, series allow us to quickly identify the ebooks in your catalogue that belong to a set. They can be added to specific promotions at sales points (such as on promotions on Fantasy or Romance series, and so on).

They allow resellers to automatically program promotional operations to highlight different books in the series. For example, when a reader buys book 1, book 2 will be automatically recommended.

On the sales point's site, readers can click on the series' name to access an overview of all the books that make it up and makes plans to purchase the other instalments.
How To Record Series Information?
There are a few rules to remember when recording the metadata of books belonging to a series:
The title of the ebook should be the title of that instalment in the series, not the title of the series.

The title of the series as well as the book's number should be recorded in the Series section and not in the title or subtitle of your ebook. If this information is in the title and subtitle, sales points will have no way to automatically identify that your book belongs to a series and they cannot link it as easily to other instalments.
Example
The first book of the Sherlock Holmes series by Sir Arthur Conan Doyle is titled A Study In Scarlet.
Thus, the metadata must be documented accordingly:
Book title: A Study In Scarlet
Title of the series: Sherlock Holmes
Position of the book in the series: 1
Title of the book in the series: Book 1
Not all sales points manage the Series field correctly.
Indeed, some resellers, although increasingly rare today, do not yet properly manage the information documented in the Series fields.
If you want to be sure that your series is clearly visible on all sites, you can also add the series information in the subtitle. In the above example, the title could be A Study In Scarlet - Book 1.
In any case, it is imperative to fill in the Series section correctly, as this metadata is used by all major sales points like Amazon, Apple, Kobo, and Google, as well as many independent bookstores.
You can consult all the collections and series that make up your catalogue by going to the Collections and Series section of your home page:

From there you can:
Get an overview of all your collections and series and export this information as an Excel file
Batch modify your collection and series information
Want to know more about metadata?
Don't forget that our metadata best practices guide can be found here in our customer portal: Best practices - metadata and formats. It contains tips on how to record series metadata and other important fields!
If you have any questions, please do not hesitate to contact our team at diffusion@demarque.com.